Join us for the final session of this spring's open mic webinar series.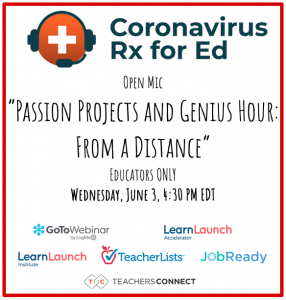 If any of these statements could have come from your lips,
 join us
and get a "Grab and Go" strategy to  uncover your students' passions and develop their skills.
"I've got to keep the kids engaged right to the end."
"Parents are asking me for ways to keep the learning going over the summer."
"I'm afraid that #learnfromhome is still in our future. I need some fresh ways for kids to follow their own interests AND stick with the curriculum–so I can be the best version of me next year."
Register now
 and add some passion and genius hour to your teaching repertoire.
---
Continue reading Want to Prevent Summer Melt? Put Some Passion Into It. →