"Biggest Challenge to Teacher Prep in Generations"
Suddenly, you've got a whole new realm of preparation for your pre-service teachers. Distance learning in one way or another is here for 2020-2021–and likely for good.
Be a leader among your teacher prep peers.
Integrate Distance Learning into your program in the fall semester. The instruction you provide must be quick, practical, scalable, high-impact, and easy-to-implement. We hear from teachers every day: I don't want a consultant right now. I want to learn from teachers with RECENT remote learning success. 
And, of course, it's got to come at a price that's affordable to you and your students.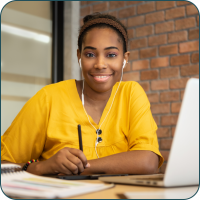 Bring confidence and calm to your pre-service students–and faculty!
TeachersConnect "Grab and Grow" Courses
TeachersConnect "Grab and Grow" is a new online learning community where teachers take courses designed and vetted by other teachers. After all, at the moment, classroom teachers are the only ones with real experience with the sudden switch to online instruction. The courses are:

10-30 minutes per micro-course—at a teacher's convenience.

Techniques that help teachers solve meaningful instructional challenges right away.

Topics that address teachers' biggest instructional challenges.

Courses are designed, instructed, and vetted by teachers.
An innovative crew of teachers is at work right now designing the exact courses your teachers need to provide an equitable experience that CLOSES gaps.
Costs as low as $10/teacher. Use the form below to learn about special introductory rates, group rates, and partnership opportunities.