Join us for the final session of this spring's open mic webinar series.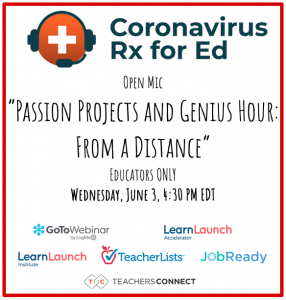 If any of these statements could have come from your lips,
 join us
and get a "Grab and Go" strategy to  uncover your students' passions and develop their skills.
"I've got to keep the kids engaged right to the end."
"Parents are asking me for ways to keep the learning going over the summer."
"I'm afraid that #learnfromhome is still in our future. I need some fresh ways for kids to follow their own interests AND stick with the curriculum–so I can be the best version of me next year."
Register now
 and add some passion and genius hour to your teaching repertoire.
---
Seeking Presenters: Deadline May 28th, 11:59pm EDT
As always, we're putting together another diverse and powerful line-up of educators to share "Grab and go" techniques.
Nominate a Teacher
If you'd like to nominate a teacher to "step to the mic," either encourage that teacher to apply using the link above or nominate the teacher, and we'll follow up.
Sign-up Yourself
If you've got a low-cost, easy-to-implement technique to get students to uncover their passions and you'd like to apply to "step to the mic," fill out this very brief form. Don't be modest; we've got something to learn from you! Together, we're going to say goodbye to teaching as a solo activity.
Be positive, be well.
Dave Meyers
Former elementary and middle school teacher
CEO and Co-founder
TeachersConnect
---
Thank you to our incredible sponsors.
Without you, we couldn't make this happen.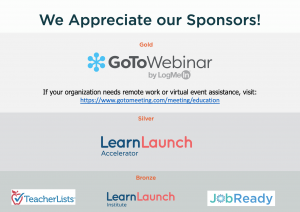 ---
  "Success comes through many small sparks and by drawing on collaboration over time."
Dr. Keith Sawyer, author of Group Genius: The Creative Power of Collaboration