Q: How do I design virtual assignments that get my kids working together?
A: Teachers have answers…and they're "steppin' to the mic" to share them. Join us for "Grab and Go" strategies for your classroom.
---
Join us for Session 4 in our Open Mic webinar series.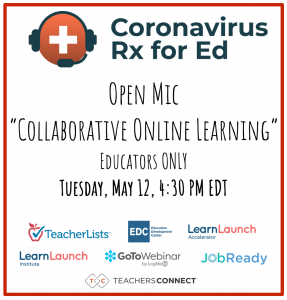 Register now
 and add some collaboration, interaction, and FUN to boost your online teaching repertoire and increase student participation.
---
Seeking Presenters: Deadline May 6th, 11:59pm EDT
As always, we're putting together another diverse and powerful line-up of educators to share "Grab and go" techniques.
Nominate a Teacher
If you'd like to nominate a teacher to "step to the mic," either encourage that teacher to apply using the link above or nominate the teacher, and we'll follow up.
Sign-up Yourself
If you've got a low-cost, easy-to-implement technique that has reached every learner or engaged students in collaborative, project-based work and you'd like to apply to "step to the mic," fill out this very brief form. Don't be modest; we've got something to learn from you! Together, we're going to say goodbye to teaching as a solo activity.
Be positive, be well.
Dave Meyers
Former elementary and middle school teacher
CEO and Co-founder
TeachersConnect
This is Session 3 and 4 in a weekly series that runs at least through May.
---
Thank you to our incredible sponsors.
Without you, we couldn't make this happen.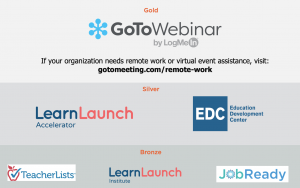 ---
  "Success comes through many small sparks and by drawing on collaboration over time."
Dr. Keith Sawyer, author of Group Genius: The Creative Power of Collaboration