There are two questions we keep hearing from teachers:
How do I reach every learner?

How do I plan lessons and activities that require students to work collaboratively?
Teachers have answers…and they're "steppin' to the mic" to share them. Join us for "Grab and Go" strategies for your classroom.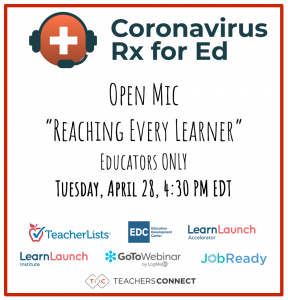 Register now if you're determined to provide powerful online learning experiences to:
English Language Learners
Students with IEPs and other special needs

Students with limited access to technology

Students experiencing depression, trauma, or a lack of motivation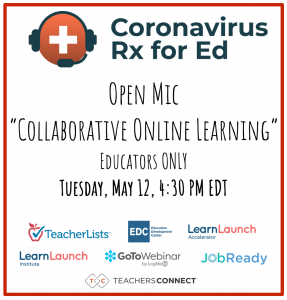 Register now
 if you've been wondering how to design assignments and activities that require students to work together–and from a distance.
Seeking Presenters
As always, we're putting together another diverse and powerful line-up of educators to share "Grab and go" techniques.
Nominate a Teacher
If you'd like to nominate a teacher to "step to the mic," either encourage that teacher to apply using the link above or nominate the teacher, and we'll follow up.
Sign-up Yourself
If you've got a low-cost, easy-to-implement technique that has reached every learner or engaged students in collaborative, project-based work and you'd like to apply to "step to the mic," fill out this very brief form. Don't be modest; we've got something to learn from you! Together, we're going to say goodbye to teaching as a solo activity.
Be positive, be well.
Dave Meyers
Former elementary and middle school teacher
CEO and Co-founder
TeachersConnect
This is Session 3 and 4 in a weekly series that runs at least through May.
---
Thank you to our incredible sponsors.
Without you, we couldn't make this happen.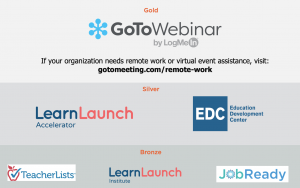 ---
  "Success comes through many small sparks and by drawing on collaboration over time."
Dr. Keith Sawyer, author of Group Genius: The Creative Power of Collaboration