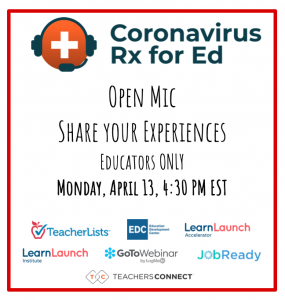 You Might Be Asking:
How do you keep your students focused, motivated, and engaged when assignments are optional and "class" is online?
The Solution:
Collaborate. Share. Ask. Validate. From a safe distance:-)
What We're Doing:
We're inviting all educators to join a free online "open mic" session. Share your quick-fix, low-cost, easy-to-implement ways to engage and motivate students in online classrooms–even when the work is optional. Pose your questions and challenges in a calm, supportive, interactive, and moderated online sharing session. Or just listen and learn. Leave with lessons and strategies to implement right away.
Who:
Teachers, specialists, paraprofessionals, pre-service teachers, principals, superintendents.
Register for free; nominate a teacher:
Monday, April 13th, 4:30 – 5:30 ET.
Register for free to reserve your spot. 
If you've got a low-cost, easy-to-implement technique that has led to engagement, connection, and learning for students (even when online assignments are optional) and you'd like to apply to "step to the mic," fill out this very brief form.
If you'd like to nominate a teacher to "step to the mic," either encourage that teacher to apply using the link above or nominate the teacher, and we'll follow up,
Thank you!
This is Session 2 in a weekly series that runs at least through May.
---
Thank you to our incredible sponsors.
Without you, we couldn't make this happen.
---
  "Success comes through many small sparks and by drawing on collaboration over time."
Dr. Keith Sawyer, author of Group Genius: The Creative Power of Collaboration