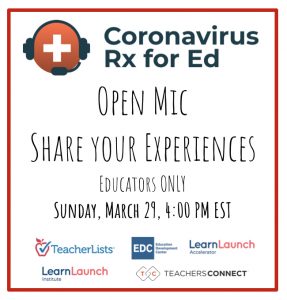 Right now…
…you're being pulled in all directions: be flexible, be creative, be resilient, support students and families (take care of yours), and be a masterful online teacher.
You Might Be Asking:
What's an educator to do in this Coronavirus moment with a whole new set of demands?
The Solution:
Collaborate. Share. Ask. Validate. From a safe distance.
What We're Doing:
We're calling on all educators to join a free online "open mic" session. Share your quick-fix, low-cost, easy-to-implement victories with fellow educators. Pose your questions and challenges in a calm, supportive, interactive, and moderated online sharing session. Or just listen and learn. Leave with lessons and strategies to implement right away. Continue the sharing and problem-solving in the free TeachersConnect online community.
Who:
Teachers, specialists, paraprofessionals, pre-service teachers, principals, superintendents. If you know any educator doing something powerful, nominate that person to "take the mic."
Register for free to join your colleagues:
Sunday, March 29th, 4:00 – 5:00 ET.
Register for free to reserve your spot. If the time doesn't work for you, no worries, we expect this to be the first in a series, and we'll be polling you for ideal times and "hot topics."
---
Thank you to our incredible sponsors. Without you, we couldn't make this happen.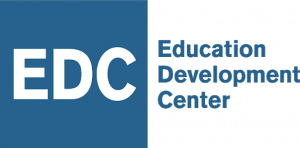 ---
  "Success comes through many small sparks and by drawing on collaboration over time."
Dr. Keith Sawyer, author of Group Genius: The Creative Power of Collaboration