Changes Take Effect January 16th, 2020
Join for as little as $2/month
(Update: Due to urgent teacher need in the context of Coronavirus school cancellations, TeachersConnect is now payment-optional.)
Like all great teachers, we know it's important to pause for a few minutes each day to just listen–to students, to colleagues, to family. As 2019 rolled into 2020, we paused and listened–to you–as you described in interviews, emails, and surveys what you love about TeachersConnect. Here's what you shared:
  
What You Love About TeachersConnect
It's

relentlessly positive

. Even when your colleagues are frustrated, even when they might want to vent, they don't. They focus on solving problems and growing.

It's the most

teacher-centric

community on the Web. No banner ads, no spammers, no outsiders, no anonymous trolls.

It feels like family. You routinely collide with a diverse group of educators just like you and the sparks ignite new ideas for your classroom.

The Future of TeachersConnect
When we asked how you want TeachersConnect to grow and improve, you gave us clear guidance. You want
A way to earn CEUs and additional income as a teacher leader/learner
Android and iOS apps with notifications that remind you to check TeachersConnect more frequently
Faster ways to find the people and topics directly relevant to you
You've laid out a clear vision of the future for TeachersConnect, and we aim to deliver. 

What To Expect as We Transition to a Paid Community
Preserving the qualities you love and driving toward the future you've envisioned requires fiscal resources. Because of this, we're making a change: On January 16th, 2020, TeachersConnect will become a paid membership community  (Note: Our "Special Status" members as of December 2019 will have the option to join for free*.). We get that you don't have a whole lot of extra cash, so you can join for as little as $2/month. Why join? Because it's the most uncompromisingly teacher-centric online community out there. TeachersConnect is: 
Moderated, safe, trustworthy 
No ads. No anonymous trolls
Only problem-solving teachers reaching more students each day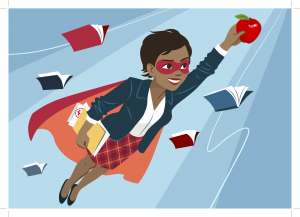 What You Need to Do
It's really easy…When you log in to your TeachersConnect account after January 16th, 2020, you'll see a new page where you'll can select the payment option that suits you best: $3/month, $24/year, $50 for a lifetime!
Don't miss out. We look forward to providing you with more skill, confidence, and joy each day on your teaching quest–all for the cost of a cup of coffee each month. As always, be in touch if you have questions, feedback, or ideas. 
See you in the community!
Dave Meyers
CEO, Co-founder, and Former Classroom Teacher
*"Special Status Members": Some of you joined TeachersConnect through one of our community partners . Others of you are TeachersConnect Community Leaders and Trailblazers. Because of your special status, when you log in after January 15th, 2020, you will have the option to join for free. If you believe you should have been given the special option to join for free, send a note to dave@teachersconnect.com.