App Sections
Discover Section: Browse and search posts, ideas, and stories from any teacher on TeachersConnect in this feed. Comment on posts or tap "Helpful" and "Me Too"  (see below) to react to them. Control what content you see by adding interests (see below) when you tap the Interests button. Any posts you create will be posted in Discover.

Q&A Section: Browse and search questions from teachers on TeachersConnect. Tap "Answer" (see below) to answer a teacher's question. Tap "Me Too" on a question to let that teacher know you have the same question as them. You will be notified when that question has new answers. Any questions you ask will be posted in Q&A.

Post: Create a post or ask a question. Creating a post allows you to share your ideas, resources, stories, and more with the TeachersConnect community. Asking a question allows you to get answers from the TeachersConnect community.

Connect Section: Search and browse teachers that you would like to connect with. You can connect with teachers who are teaching similar grades and subjects as you, fellow alumni from your teaching program, or teachers who have the same interests as you. You can follow these teachers to see their posts in Discover, and start messages with them to exchange ideas and collaborate with them.

Me Section: Edit your profile, view your notifications, read your posts, and see who you are following along with who is following you.
Buttons

Helpful Button: Tap to let a teacher know you think their post or comment was helpful.

Me Too Button: Tap to let a teacher know you feel the same way or have the same questions as them.

Answer Button: Brings up your keyboard to answer a teacher's question.

Interests Button: In the Discover section, you can tap this to add your educational interests that will influence what posts and topics you see in Discover.

Attachments Button: Tap this while writing a post or comment to add photos or videos from your camera roll. When a number is above the attachments button, that means you have something attached to your post or comment.

Create Post Button: Tap to create a post that will appear in the Discover feed for all teachers on TeachersConnect.

Ask Question Button: Tap to ask a question that will appear in the Q&A section for all teachers on TeachersConnect.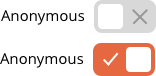 Anonymous Button: Tap to make your question anonymous when posting it. No one on TeachersConnect will know that you are asking the question. You will still be able to see that you asked the question. Tapping the switch again will turn it off, and your post will not be shown as anonymous when posting it.
Other Controls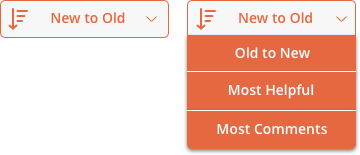 Sort Menu: Tap to sort items in a list (such as sorting posts or sorting a list of teachers).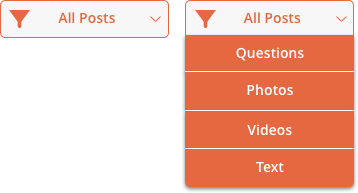 Filter Menu: Tap to filter a list of items to a specific type (such as filtering a list of questions to a list of most helpful questions).

Camera Slot: Tap to add a photo or video.